David now faces a sea of challenges as COVID-19 has fundamentally changed fitness as we know it around the world.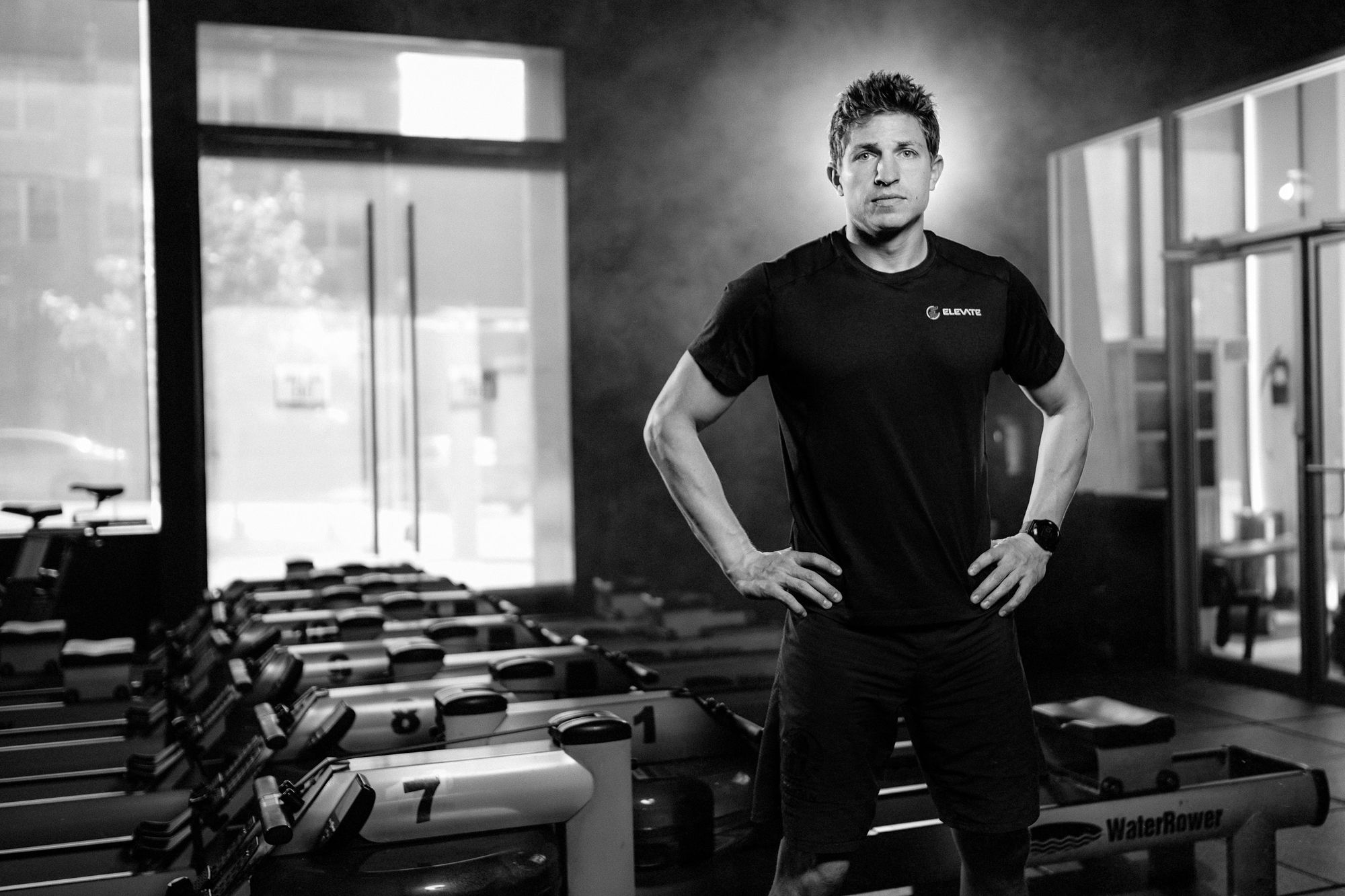 This interview was conducted with David Magida, the founder and owner of Elevate Interval Fitness in Washington, D.C.
David is a former collegiate runner, and became a world ranked competitive Obstacle Racer as one of the founding members of Spartan Race Pro Team. In 2014 he shifted his career path from management consulting to entrepreneurship and fitness, launching what would become one of the most iconic training facilities in the District with Elevate Interval Fitness.
Elevate is a boutique studio that offers a unique combination of HIIT, strength, and yoga workouts through specialized interval training. It boasts a highly accomplished team of coaches, trainers, and staff with two locations on 14th Street and Southwest.
Since opening their doors in 2014, David has grown Elevate into one of DC's most reputable fitness brands. David and his staff now face an unprecedented sea of challenges as the complications of COVID-19 and its resulting social restrictions have fundamentally changed fitness as we know it across the country, and around the world.
This is a glimpse into his life before the pandemic hit, as well as his continued fight in keeping his business alive.
What is your name? What is the name of your business?
My name is David Magida. And I am the founder of Elevate Interval Fitness on 14th Street and in Southwest DC.
Describe what your business was like before Covid-19 hit. What did an average day look like for your business?
Elevate Interval Fitness is a boutique fitness studio, so it's all workout classes. We would open the studio at 5am and the first class would be at 5:30 AM. And we would run classes every 60 minutes, 5:30 AM to 9:30 or 10:30 AM, and then often a lunchtime class at 12:30 PM. Then the afternoons 4:30 PM to 7:30 PM, sometimes 8:30 PM. A lot of classes throughout the day with about 24 people at a time in each class.
Our operations have completely flipped from being this client-centered, in-person model where we're not just providing fitness, but providing a sense of community as well. It's people's social lives, in addition to their actual workouts. It's just kind of what they do for fun, so  we do events and happy hours and things like that. And for a lot of people, we're like their third space where they have work, they have home, and they've got their place to Elevate. Now, all of a sudden, they don't have that. So we're their routine, you know, we're their place they go every morning at 6:30am or every evening on the way home from work. So things really, really changed.
When did you start to feel the impact of COVID-19, what happened?
A little over a week leading up to when the mayor started shutting things down is when we really felt it. We started getting concerned about it a few weeks out before the shutdown, and every day leading up to it things changed faster and faster.
I don't recall a pandemic in my lifetime that was this concerning. At first I was like, "Okay, everyone, no need to panic...right now the mayor hasn't shut anything down." We kept telling our clients to try and go about your normal day to day, and emphasize that we've installed additional cleaning procedures and additional time between classes to clean things extra thoroughly for them, including wiping down all the door handles, etc.
It started with that - our gym becoming even more focused on sanitation. We already cleaned throughout the day but this turned into cleaning between every class, every weight getting wiped down, and every piece of equipment getting fully cleaned between every single class.
It got to a point where in addition to our cleaning staff, we now had sales staff and coaches cleaning like crazy.
We basically wanted to get to a point that we could just make everybody comfortable. Every day it was something new like, "Okay, no high fives anymore...we're going to do fist bumps." Then it eventually became elbow bumps, then finally it came down to zero contact between staff or members. ‍
Every day we'd send a new message to our clients and staff saying, "We've changed everything again. And it's more extreme."
It got to the point that on the 15th of March, which was the day before the mayor issued the closure order, we just kind of looked at the situation and how rapidly it was expanding. And I sent a note out to our members, which was probably the fifth note of the week about updates on COVID, and I said, "Listen, our objective is to be a leader in health and wellness. And it doesn't seem like we can do that. We cannot continue to operate because your health and your safety is the priority here."
We closed on the 15th of March, voluntarily.
Initially, we were very sure we wanted to launch a digital program. So we had already been writing workouts. We recorded the first workout on Monday morning the 16th, and by midday Monday, we'd already posted it for our members. As of today we've done over 100 digital workouts, and we even made an on demand membership program: "Elevate At Home." Every day, you get a new workout in your inbox and you can do that workout at any point during the day that you want. We also have a library of workouts clients can access which provides about two weeks of workouts at a time.
In addition to offering our HIIT workouts, we've also started offering two bonus workouts a week with dumbbells and kettlebells (if you have equipment) and two yoga - yin yoga and vinyasa yoga. So we want to give people a full range. We've also been sending members running workouts and other activities they can do outside on their own, to give people a really well rounded experience. Members can also join LIVE classes they can book, just like they did before with their account credits. These are all Zoom-based, so you're also with other people which provides  that missing sense of community.
For us, it came down to one question, "What can we do to survive?"
We can't charge as much for virtual workouts. We decided on a price point which is more expensive than the generic online workout that older companies have been doing for a long time. We are a little different since we're providing that routine our members love and that normalcy of being with the coaches that you know already. We decided to charge $59/month for this on demand membership, or about $2 per day. We told our members that if they're worried about finances, just let us know and we could pause their account or convert them to a digital membership rate.
We also told our members that if they want to try and help us make it to the other side of this thing, we welcome anyone who's willing to continue to pay their normal membership dues for access to the on-demand workouts and the LIVE workouts. It's created a tiered system and the reality is that a lot of our members were like, "Listen financially, I can't do it. I'm not getting paid right now, I'm furloughed." That was fine, and we completely understood. A lot of our members also responded, "We're with you, you know we love this place, and we want this place to be here whenever this ends."
It's made me happy to see we have a really strong community that's holding us together. I mean we're not doing great, but hey - we're hanging on.
What resources, if any, helped you through this time period? (From the federal government, state, family and friends.)
The mayor's office has been super helpful. We've been on a lot of the "Town Hall" conference calls with their team, just getting information from them. If you asked quickly, you might have been lucky enough to get a payroll protection loan, which we did. We're really excited about that since one of our objectives was to continue to pay staff through the entirety of this thing and as of now, we are still able to do that.
As far as other things that have been helpful, we are hoping that we can get some assistance from the city in providing tax credits or something similar to our landlords, who hopefully will back down a little bit. Our landlord for our 14th street location is UDR, which is a huge national company, and they are pretty much stonewalling us right now. They refuse to even have a conversation with us about rent relief. Maybe the city council can help us put some pressure on them to at least talk to us about these kinds of rent relief options.
What resources are missing?
The biggest resource we need has to be support with paying our rent. The next big one is when we reopen, we may not be able to find things like wet wipes and hand sanitizer that we need in massive quantities. We want to ask the city to use it's influence, finances, etc. to help small businesses access a larger scale supply chain.
Honestly I can't find cleaning stuff anywhere except Alibaba, where you have to buy a shipping container's amount of wet wipes to get an order in.
It's more critical for studios or gyms like us since we're going to be wiping everything down constantly, and we're going to need hand sanitizer for everybody who enters the space We're going to need absurd amounts and I don't know where to source these aside from the little teeny tiny bottles you see at stores.
When we do make that step towards opening our doors, we know that we're going to have some people that feel safe and some people that don't. For the ones who don't, we're going to continue to provide online digital workouts for them so that they can have an alternative until they do feel safe. But I think it's important for the city to be vocal in letting people know when it is safe to get back out there.
I think what Elevate - and really any other gym or studio - is going to struggle with is with their customers being scared to be the 'first ones' to come back.
Even if it's safe, everyone's afraid of another wave and that is totally fair. We will probably need some support from the city from that perspective, possibly financially with something like a tax relief program. We need something, anything, because we will likely lose money for what I believe will be the first maybe six months after we reopen due to high operating costs and low utilization.
Whenever reopening happens whether we're at 25% capacity or 50% capacity - or whatever it is - we need the city's help so we don't blow through what little cash that we have.
What has been the most difficult thing you have dealt with so far?
Well, obviously, when you make a complete business transition from in-person to digital platform, there's a big learning curve there. We've tried to simplify the process by shooting it from a single angle with two different cameras, but initially we started with just a webcam. We brought in external microphones, but we made mistakes buying our first ones and then we had to get a lighting kit, and so on. We've essentially been building, slowly, a small studio.
This process has made us learn a lot of things like how to edit video quickly, trying to find ways to upload faster, and then figuring out basic things like, what's our distribution model? This is very time intensive, can we find a better solution? What do we do about people sharing this IP with others, is there a way that we can install a paywall for this so people can't just steal it? This entire process of launching this digital platform has been eye opening, but it was the best short term solution to get things out to our members immediately with a pretty high level of quality.
Has anything positive happened for you personally or for the business as a result of COVID-19?
The most positive thing from this whole ordeal has been the response from our members., Although you will have some people that will complain about everything, the majority of our people have been just so kind and positive. So many have reached out and sent the nicest emails saying things like, "Thank you, you're the best part of our day," and, "...this is the only sense of normal that I have in a time of uncertainty," and, "...I'm so lucky to be a part of this community."
My favorite is probably, "Well, when I think back on my time with the stay at home order, I'm going to be thinking about my Elevate At Home workouts." For us, all of this support has given us the motivation and the inspiration to keep on doing a good job and continuing to put out high quality content and to not give up.
Have you been following the reopening process in other states, how does that make you feel?
I feel that some of these states have moved a little too soon.
I know that DC will be conservative about reopening, and I want to be there when it happens - we want to be conservative as well.
That means waiting till the time is right, maybe opening at 25 or 50% capacity, and maybe even shortening the classes to allow extra cleaning time in between each session. We also want to limit the equipment used in each class so that we not only have less cleanup to do, but also  to limit contact between members. Other changes will likely be people queueing outside for class with six feet apart rather than waiting in the lobby like they used to. We will probably not allow people to use the showers after class, and direct them out of the studios after each class.
We are thinking about possibly changing the schedule so people are working out in the middle of the day since they're already staying at home. In that sense, we can have fewer classes congregated in the morning or evenings and offer more flexible class types. In general, we will probably have staff wear masks at all times to protect them. I don't know what the mask policy will be yet for members, a lot of this stuff is going to come down to what are the best practices advised by the CDC and from the city.
With that said, we are happy to provide our guidance and the best way to organize workouts and keep things safe and clean in our opinion.
When it comes to reopening, what are you most concerned about?
With reopening I would say it's mostly a financial concern. We're going to have a lot of work to do, we're going to be launching a lot of workouts, while also still having to produce our digital program for those who don't feel safe coming in yet.
I also think people underestimate the long term effect the fear of crowded places will have on people's psyche, especially in an industry like fitness.
‍When we think about what it takes to reopen, a big part of our concern is our costs and how we allocate our efforts. The reality is that it takes a long time to produce high quality products digitally, and balancing that with our in-person classes will be tough. We don't know what our cash flow situation will be and I think a lot of businesses are going to fail on the reopening process because they will fail to account for their expenses going up.
What is your best case scenario for reopening?
I don't know that there is a best case scenario, but I suppose if there was one, it would be one that a vaccine would be available immediately. Everybody is confident and going back out there, nobody's getting sick. There's no second wave. People go back to complete normalcy and our membership is thriving. [Laughs], I think that is a very much wishful thinking.
Honestly it's going to be a grind for a while and we're going to have to run really lean, keep expenses low.
The public will have to be very understanding about all of the businesses that reopen in terms of what they're going to be providing, from an operation standpoint and from a customer service standpoint - everything is going to take a lot longer than usual.
I do think that the introduction of virtual products is a game changer. I went to get coffee this morning, and I ordered it on an app on my phone. And although they already had that feature, I didn't use it before. I just always stood and waited in line. Now it's going to be second nature. I think a lot of our members are going to come in two days a week and do some of our at home workouts on their other days. Or even when it comes to traveling for work, we had a few people who weren't joining our studio because they traveled Monday through Thursday. Now those same people actually want to buy a membership because then they can access online workouts and do those on the road.
I think our model has changed a bit in that sense and ideally, we can grow that digital product offering and become successful there.
What have you learned from this experience?
I've learned that my team and I are capable of adapting in ways I never thought of. I'm lucky to have an amazing team, as well as members and clients who cheer us on because they love what we do and want to see us succeed.
I've got some folks who are staying at home and haven't stepped foot in the gym, but they're hustling from their living room by helping us run payroll, handling customer service and dealing with all of the other administrative things we need to stay afloat.
I've got some other people who are helping us actually do the workouts coming into the studio, setting up cameras, doing all those little things so we can continue to put out a product for our members.
This process has shown me the importance of what we've built, and the impact it's had in our members' lives. We're really lucky that Elevate has developed such a strong community, and we're not just a spot that people go to workout - we're a family.
Is there anything else you'd like to add?
People can access our workouts at www.trainatelevate.com. "Elevate at Home" is our monthly program where you get a new daily workout or two in your inbox and our Elevate Live Zoom workouts - I'd highly recommend people try out a month and see how they like it.
Honestly, it'll change your life, you will feel like you're with other people, you will feel a new sense of motivation, and I think it will give you an opportunity to just get out of your own head because we all need that every day. Working out does so much for your state of mind, everything from your emotional stability to your own personal confidence. Exercise is the foundation for building your sense of normalcy, and we're here to help.