Kelly Towles is one of Washington's best known artists and an OG social distancer, but even he is not immune from the impact of COVID-19.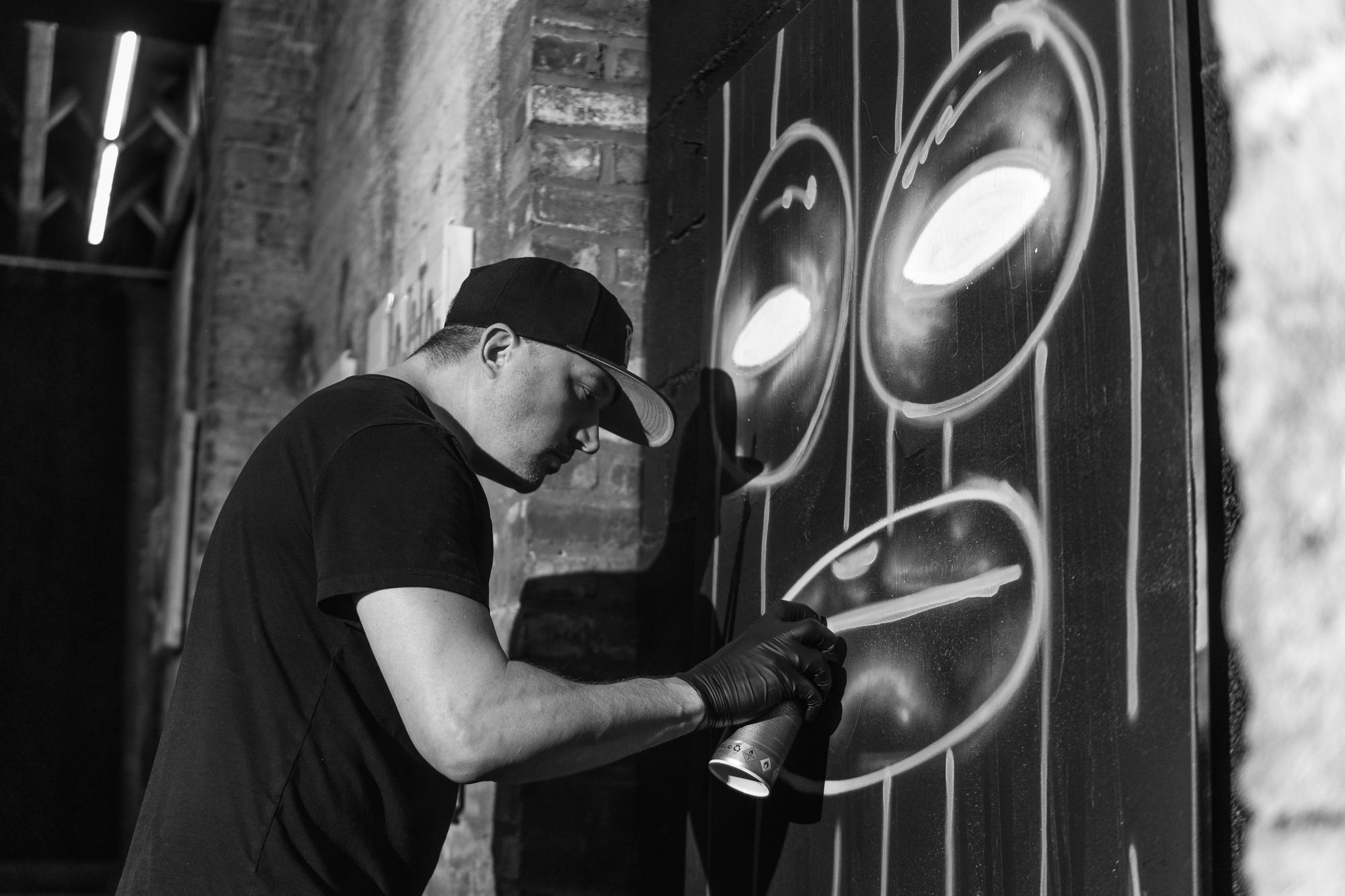 This interview was conducted with Kelly Towles, a celebrated D.C. designer & artist with iconic murals that can be found across the DMV region.
Kelly's art can best be described as seeing the world through his eyes - unorthodox interpretations that take the ordinary or mundane and transform them into the visually astonishing and fantastical. His art often features personified everyday objects, abstracted figures, and various representations of the many places or people that have influenced his life. Kelly's murals featuring his trademark 'bandit-style' animations of objects, places, and people, seem to have escaped from his imagination and taken up residence in unexpected places throughout the city.
Kelly is also the Director of Pow! Wow! DC, an international arts festival that draws artists from around the world to design and install new murals in designated areas around the District. The murals vary in aesthetics, but are all breathtaking in scope and beauty. The festival provides group walking tours to each installation for the public to watch the artists work in real time.
In addition to the Festival, Kelly also runs a Creative Agency called Holy Bones, which features many of his custom prints and merchandise for purchase as well as a gallery space in D.C.
This interview is a glimpse into his life before the pandemic hit, as well as his continued fight in keeping his business alive and spreading positive vibes during these unprecedented times.
What is your name? What is the name of your business?
My name is Kelly Towles. I am a D.C. based artist, designer, director of international mural festival, Pow! Wow! DC and director of creative agency, Holy Bones.
Describe what your business was like before Covid-19 hit. What did an average day look like for your business?
I was working six days a week, and using the other day as a family day. 12 hour days, cranking away on paintings, designs, murals, and organizing festivals with just massive projects in April.
Middle of March, everything came to a halt.
When did you start to feel the impact of COVID-19, what happened? Were you in the middle of planning the next Pow Wow?
We're on our fifth [Pow! Wow!] festival this year, and we'll see what happens. Last year, I had already pulled the trigger to move it to the Fall. Typically we have a lot of rain at the end of April and the beginning of May. Mother Nature is my arch nemesis when it comes to the festival, and I thought, "Yeah, I'm just going to take a chance and move it to the fall," and I'm so happy I did. The amount of planning that goes into this event builds up over those months, and I would have already secured a ton of stuff for the event by March and April. To put it plainly, I would have been fucked.
Since I was able to move it and take into account the reality of everything happening right now, I'm looking at how we can pivot the event to support our community. The whole point of the festival is to beautify the community. We need to figure out how we can still do that without putting people in danger, and make sure we do it correctly in a way that supports our mission of making our city shine and putting the light of art out there.
That's what we always want with our art and this festival, something that will give people more hope and positive vibes.
What resources, if any, helped you through this time period? (From the federal government, state, family and friends.)
Thankfully I've gotten a lot of support from a lot of people. From people just buying my work, to the D.C. government putting out a couple grants and the Washington Project for the Arts (WPA) - they gave out some money that helped as well.
It was really sketchy in the beginning, specifically the end of March and beginning of April because everybody was in the same boat saying, "Well, I don't know what to fucking do."
‍But now, people have started to figure out how to make it work. My wife owns two retail stores; both of them had to shut down and she had to figure out how to make them function. Basically, she took them both into virtual shopping.
Us balancing each other, along with our eight year old son. And he's chillin' here in the studio right now, just hanging out, but to balance out how we can support each other, how we can sit there and homeschool him, and figure everything out. It's been pretty amazing to see people show up, especially where it could go south and go negative really quick, but everybody has really bonded together to figure it out.‍
MASKS & CREATIVE‍
I made some masks that were well received by the community. I'm trying not to flood the market on it and just have fun, create new ones, and space it out. Because at one point in time, I got really excited and put a bunch on online and all of a sudden there were a bunch of sales, which is amazing. And next I thought, "Oh, how am I gonna do this, how am I gonna do that?" and then people started emailing me and saying, "Can I change my order?" or "Can I do this?" because it's all virtual now.
Sometimes it's hard to stop when something's in the process of being made like my masks, but I definitely learned my lesson. Now I'm gonna pace it out a little bit more and see what happens. It's really cool because I've had other people hit me up about masks. I'm gonna try and do one for U Street Music Hall, and figure out how to help other groups with these mask collaborations because it's a lot of fun.
What resources are missing?
I'm in a much better spot than most. You know, I try to be as positive as I can. I try to look at situations in the best way possible. But, you know, there are people out there who don't.
For example, my son goes to a really nice school. It's a public school and it's super nice. We found out through the social worker that checks in every so often on us to see how we're doing, that there are some kids in his school with families that don't have food.
Like, no food which is just heartbreaking.
I actually helped direct the social worker to people that are doing things like Chris Cardi, who's working with Maketto. They are doing a free pantry where you just go and pick up free food, so I gave her a heads up on that resource to tell these families.
Personally, I'm in a really great spot workwise and mentally.
People are still hitting me up for commissions, and for this, that and the other. Even for the festival, we always have at least 50 or 60 gallons of paint leftover every year. I've been having fun exploring with those, and seeing how I could just repurpose it, instead of having to go out and worry about being exposed at a store.
Yeah, I've really been good. I feel lucky.
How has this experience changed you as a business?
Obviously when this all happened a few of my clients ghosted, there's no festival happening any time soon, no art events, nothing at all really. The flip side of that is that I am actually very used to just sitting in my studio for 12 hours a day, by myself or with my son, and just working.
None of this isolating indoors for hours is new to me (laughs), I've been practicing this for years, and that's a fortunate thing in hindsight. I think for most artists it gives real time to hunker down, and crank out a lot of work.
I'll be very shocked if there aren't 50 million solo shows that come out after COVID. Maybe we enter some sort of new Renaissance.
I think the only thing that's really changed is having to homeschool my son.
Beyond that, things are coming back, people are starting to contact us again about commissions, about work, and things like that. It slowed down, but I don't think my process or anything of that nature is going to change that much which I'm very happy about.
This virus really made me more introspective than I ever have been.
I've always tried to be happy and put work out there that makes people smile - this entire thing makes me want to do that tenfold now, but I've had to hold myself back like, "Slow down man!" But really not a lot has changed for me, I just continue crushing away because I'm a workhorse. I just work, work, work, work, work. If I wasn't working on something, I would be really bored.
What has been the most difficult thing you have dealt with so far?
Not traveling. This time of year we'd be getting ready to go to Mexico or Tokyo, and I know that is such a luxury complaint. It's been such a routine for me to travel, work, and be very active, so not doing it just weirds me out. And like I said, that's a luxury complaint. It's not like "Oh, I'm spoiled and I want to be somewhere else."
I mean everybody wants to be somewhere else right now. No one wants to be stuck in their house.
Even for me to be able to come to the studio, all I have to do is walk out my door, hop in my car, and drive into my studio which has a garage attached to it. I don't have to touch anything or even be around anyone - I just pull straight in the garage with a remote, and the door closes behind me. I have it really good compared to people that can't even go to their studios to work.
This didn't come easy though and I've had to work really hard to be able to have a studio and work setup like this. ‍That said, it's saving my mental health being able to actually go to work and not have to deal with the virus and worry about touching anything, or having to disinfect stuff.
Has anything positive happened for you personally or for the business as a result of COVID-19?
I would have to say one big positive is being able to concentrate more. Being introspective, having fun, going through and creating new work is a very positive thing for me.
People are coming up with the most wild, crazy, amazing, inventive ideas I've ever heard of in my entire life.
‍There are industries that have pivoted so hard, I mean good lord. And this is something I don't participate in, but strip clubs have had the craziest pivot. If you think about it, the whole purpose is to go and see people take off their clothes and dance, but that fundamentally can't exist in our current reality.
So on the news, there was a strip club - I forget where - but to save its business it had a new idea for food delivery where strippers would deliver you your food, (laughs). No joke, strippers delivering food and of course they sold a ton! It's just amazing to be able to live through this time and witness what's happening with people, businesses, and just everything around the world.
People are learning, people are adapting, and eventually we'll find our normal again. It's just gonna take a while.
How has your business changed, or will change, for when you reopen? Will there be changes made to how the festival happens?

To be honest most muralists in the festival practice social distancing anyways because when you're making a mural, you're either on a lift or you're against the wall, and you're not really talking to anybody. It's easy for us to cordon off an artist to give them a safe space to work.
I thought of many ways we could make the mechanics work and we're lucky to be a part of the largest mural festival in the world, because all of our sister city festivals such as Taipei or Tokyo have their own directors and we're constantly talking, exchanging ideas, helping each other, and figuring everything out.
The murals can definitely still happen.
The one thing that will have to change is the walking tours. When I usually do the festival, I take people on walking tours and we get 200-250 people on one walking tour, which is crazy. That is going to have to completely change, which does alter the dynamic of everything.
Beyond that, we can still do the festival in a general sense, we can still make it happen, we can still make murals.
What have you learned from this experience?
‍I'll say the first lesson was as a father. I found that my son is learning much faster while homeschooled than he was at regular school. I always thought I would be a horrible teacher and apparently I'm not. My wife's very good, too. Being able to see him cruise and excel has been a great experience.
Another thing I'm learning is figuring out artistically what I want to do with my business. I'm beginning to understand the challenges of what the future holds right now, figuring out how to be ahead of it all, which has been a pretty rad learning experience. Something like COVID is something you would never expect. It's decimated so many industries and practices, a lot of people tell me that their careers have completely changed.
I've also seen other people pick up and completely rebound like 1,000%, figuring out how to translate their work into digital or virtual. It's pretty inspiring. I'm always figuring out how I can help and be a resource for the community because I think that's the biggest thing right now is everybody supporting each other. It makes me very happy seeing D.C. shine as much as we are right now. Number of cases are low, people are really taking this seriously, and everybody's in it for the long haul. I hope everyone keeps going, and stays safe. At the end of the day, I'm just really proud of our city.
Is there anything else you'd like to add?
I just want to put positive vibes out there. I hope people are happy and healthy, and staying safe.