Before the onset of COVID, Koko ran a busy salon teeming with regulars and loyal clientele. Now she is waiting to see what the future holds.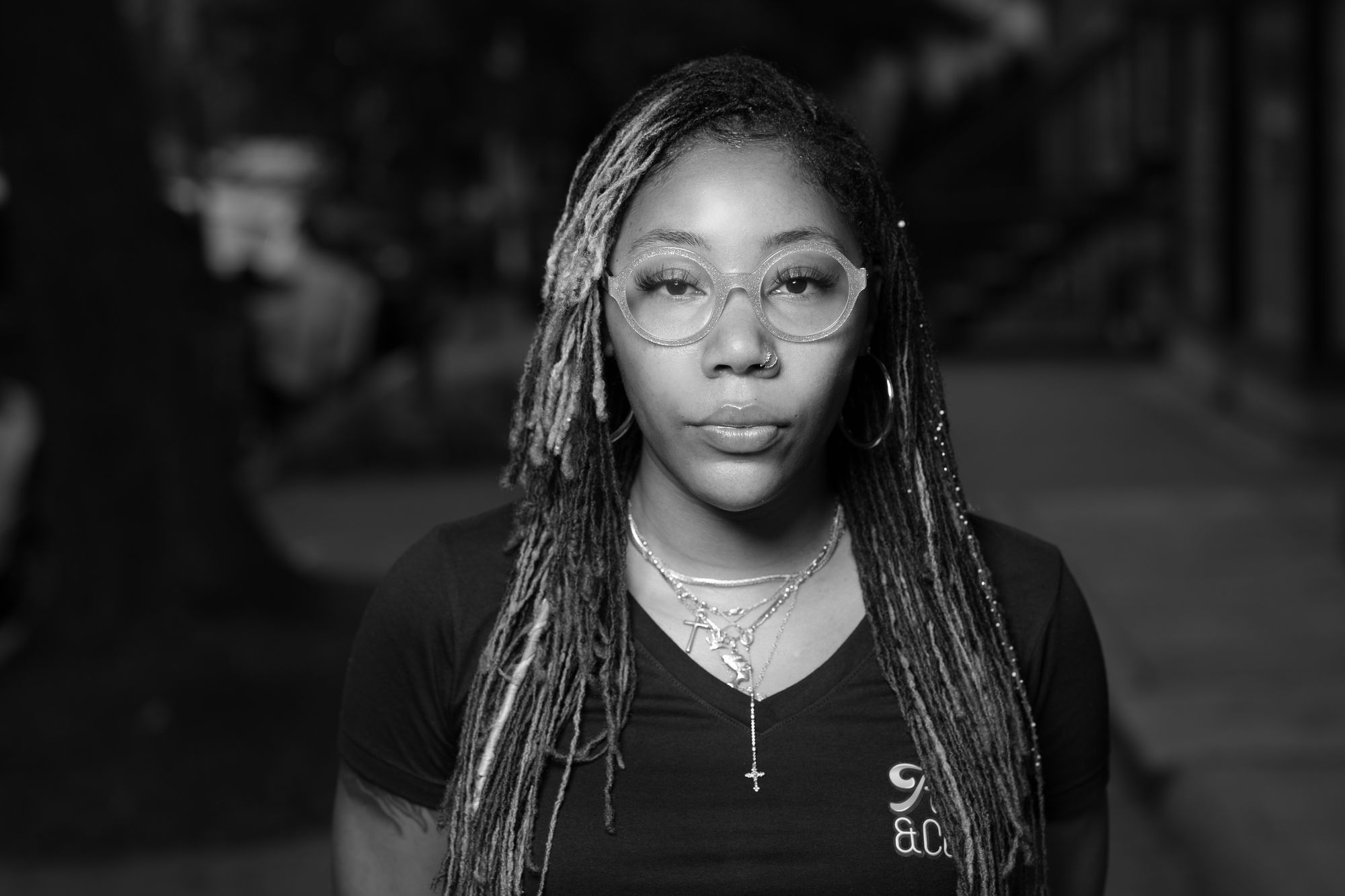 This interview is with Nakomis (Koko) Gilbert and Choi Rose, respectively the Founder and Manager of Koiled & Coiffed, a D.C.-based hair salon.
Before the onset of COVID, Koko and Choi were running a busy salon teeming with regulars and loyal clientele. Their salon was busy right up until the Mayor passed the stay at home order, with clientele trying to get as much styling and maintenance in before salon services would be no more. Like many other businesses in D.C., they have been left adrift in a sea of uncertainty.
The economic impact of COVID-19 on industries such as beauty and cosmetic care has been immeasurable, driving both massive retail operators and smaller businesses alike into dire financial straits. Koko and Choi have been forced to put their business on hold as they wait to see what the future holds for them and the beauty industry as a whole.
This interview is a glimpse into Koko and Choi's life before the pandemic hit, as well as their concerns and hopes for what the future may hold for their salon.
What is your name? What is the name of your business?
My name is Nakomis Gilbert, but everyone calls me Koko, and this is our Salon Manager, Choi Rose. The name of our business is Koiled & Coiffed.
Describe what your business was like before Covid-19 hit. What did an average day look like for your business?
We're a full service hair salon. We specialize in color, natural hair relaxers, and haircuts. We do anything related to hair.
On an average day we like to arrive at the salon early. We get settled, tidy up from the previous day, have some breakfast, and prepare to take on the day. We would stay busy with a steady flow of clients, spacing out bookings depending on the service.
When did you start to feel the impact of COVID-19, what happened?
We were busy up until the Mayor issued the stay at home order. We tried to get as many clients in before the shut down. We tried to prepare clients by giving them low maintenance hairstyles, like braids. Some clients came in to touch up their hair color. We wanted to get everyone in, so their styling needs would be met for the next few weeks. We didn't know the shutdown would last more than two months. People started getting scared and overbooking. They were like, "I gotta get my hair done!"
How has your assessment of the potential impact on your business changed over time as this situation has unfolded?
It's kind of a double whammy for us. This time last year, we were actually out of work for about eight weeks. When this happened again, it was like, "Oh my god, we're about to be out of work again." At first, it had a big impact on us emotionally, because we were just finally catching up from being out of work for so long the previous year. Dealing with two major shutdowns, two years in a row, has made me want to restructure our entire business to be more resilient. Experiencing Covid-19 has motivated us to dig into what that restructuring could look like.
What resources, if any, helped you through this time period?
Clients have been helpful. They've been sending us money, even though they haven't been getting their hair done. They have been sending us money as if they were getting services done every two weeks. That's really been helpful and heartwarming.
We received a Small Business Recovery Microgrant from D.C. We also received the Economic Impact Payment from the IRS. We're currently in the application process for the PPP.
I think the Mayor and her team are doing the best that they can with the resources that they have.
She's very good about letting us know the resources for small businesses. Now. The websites aren't really helpful when she releases the information, the websites crash, because everyone is trying to get on all at the same time. I think they're doing the best that they can given that this is new for everyone. I try not to get really upset about everything. I remind myself that this is new for everyone, everyone's life changed overnight.
What resources are missing?
It's a long and frustrating process. Everyone's applying and you hear different things from different people. Some people I know have had their PPP applications declined. We haven't gotten anything yet. I think we're going to be fine, they're just requesting more information right now.
We hope we will get the PPP through the second round. We missed out on applying for the first round. I feel like for smaller businesses, they're leaving us in limbo. Compared to the larger businesses that we've seen on the news, Ruth Chris and Shake Shack, these people are getting millions of dollars.
And then here we are, the small businesses trying to keep up, and we have landlords that just don't care.
Our landlord doesn't care at all. When I say at all, I mean at all. He's like, "you guys need to figure. it. out."
How has this experience changed you as a business?
We've completely stopped services. We haven't been able to see our clients. We've been sending out emails, with YouTube haircare videos, product suggestions and offering to help clients through FaceTime, email or text. But that's the most we can do right now.
We haven't done any house calls or anything like that to comply with social distancing. We have children, so you don't want to go into other places and risk bringing it home to our families. We've tried our best to keep in contact with clients. They've been frustrated at home. I continuously go over the Do's and Don'ts in quarantine. Don't cut your hair. Don't color your hair. Don't burn your hair. (laughs)
You know, just little things that they'll be comfortable with and make the process easier for them. But a lot of our clients don't do their own hair at all, so it was a total shock for them. We just make a list and check in with clients weekly. Though our clients are eager to get back, they also don't want to rush us back to work. They recognize the seriousness of Covid-19.
What has been the most difficult thing you have dealt with so far?
Not working, and becoming teachers for our kids. We're not teachers, we're hairstylists. I gave up one job for a new job that I'm not trained to do. That's been the hardest part because we enjoy our jobs. We love getting up in the morning and going to work. So the first couple of weeks, we were in shock wondering, "What am I supposed to do?"
Just not being able to go to work, or go through normal day to day has been really challenging.
Has anything positive happened for you personally or for the business as a result of COVID-19?
I've been able to spend more time with my child, which is great because I was always working before. For business, I think the most positive thing has been how much love and support we've received from our clients. It's also been great to see small businesses really band together and reach out to each other during this process. We keep in touch with a lot of other business owners, especially on the Hill where we work. They send us grant information, keep us updated on applications, and any other news that might be helpful.
It feels like everyone has really been trying to help us stay afloat. That's one of the best outcomes from this situation. We've seen how much support that we have.
So even in those moments when we're feeling sad, we know that we do have support and it's going to be okay.
Have you been following the reopening process in other states, how does that make you feel?
I think a lot of the states opened a little too soon. It just makes me anxious. I don't want us to feel rushed because everyone else is opening.
I think when people started seeing the other states open, they started to get a little antsy.
I don't feel like we're ready, each day feels like there's something new. I just want them to figure it out so we all can be 100% safe, instead of making assumptions of what we can and cannot do. With the other states opening up we'll be able to see what's going to happen from it, but it's really scary because people are literally risking their lives to have a good time or to get a haircut.
What are your plans for your business to reopen and what does that timeline look like?
We actually asked our clients for input, and they emailed us a long list of suggestions. I have been thinking about some of the changes we can make inside of the salon but I'm hesitant to make permanent changes for something temporary. But we're not sure if this is going to be a long term thing because our salon is a smaller space.
To actually keep people six feet apart will almost be impossible.
I thought maybe we can put up drywall and have barriers in between each station. To do something like that would be costly, and then we still wonder if we would need that forever. One of the greatest things about being in a salon is seeing each other, and interacting with each other. To put those barriers up would completely change the experience. We don't want to do that. If we have to do that, we will, but we really don't want to change the experience.
We've been taking training classes for opening up, as far as extra sanitation. We've had a regular cleaning team, but we will have them even more often now. We'll have gloves and masks available for clients and staff. One client suggested that we don't allow food, because if someone needs to eat food then they would need to take their mask off. I thought that was a pretty good suggestion that I hadn't considered.
DC hasn't sent out their guidelines for salons just yet. They had a few ideas, and they've been asking for ideas as well. We'll just wait and see what is suggested and go from there.
When it comes to reopening, what are you most concerned about?
Health. To make sure that the environment stays clean and healthy for our clients. I'm concerned about opening too soon. I'm worried that we'll get back in the groove and get comfortable, and then they'll realize that it was too soon and we'll have to close back down again. That's my biggest concern. Another thing we implemented for the reopening is that we will not serve new clients for a while. We feel more comfortable servicing clients that we know, and who would not put their health or others at risk.
What should people know about your business before Covid-19 and after Covid-19?
Some things will change, and some things will stay the same. We just don't know yet. We always put our clients first, and that will stay the same. We're going to put their health first. We like to stay connected. When we're back up, we will do everything in our power to keep you and your family safe. We don't want anybody to feel uncomfortable in our space.
What have you learned from this experience?
We learned that we are a business that can't operate from home. We need our salon to be open. We need to be with our clients in order for our business to work. It's been a journey.
It taught us to be patient because there's nothing we can do in the meantime.
No matter what happens if you run your business correctly, file taxes, you can survive. I look back and I'm sure glad that we did things the right way. If we hadn't filed taxes correctly, I think that our business would be coming to an end. We're still not getting paid, but we're able to pay our rent, which is great, because when this is over, we'll have somewhere to go.
We know a lot of stylists that were flying by night, and not following rules. Now they're trying to figure out how to make ends meet because they're not able to receive any of the relief benefits.
There's going to be a few bumps in the road but in the end we'll be just fine. I think society as a whole needed this wake up call. I think everybody's just been coasting through doing things the way they want to do. And we can't do it that way anymore.
This is a wake up call for everyone.