Lauren Dunne owner of Varnish Lane, a popular waterless nail salon chain, doubled down on community as she works towards reopening safely.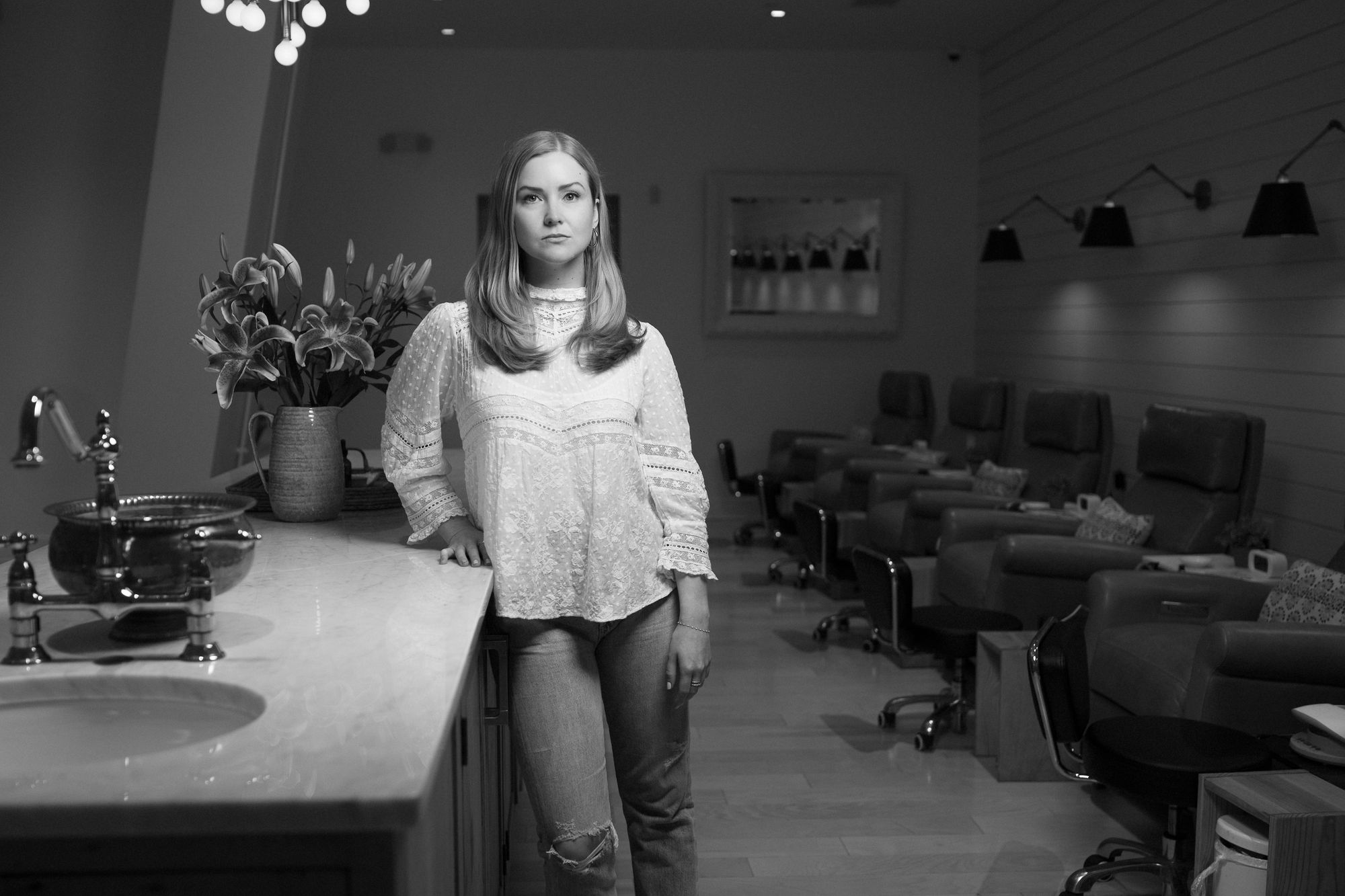 This interview was conducted with Lauren Dunne, co-founder & CEO of D.C.-based Varnish Lane.
Founded in 2014 by Lauren and her mother, Varnish Lane became one of the first nail salons in the United States to go completely waterless, creating a completely new standard for health practices in the beauty industry. By removing water from the cosmetic process for pedicures or manicures, Varnish Lane has been able to significantly reduce the risk of disease transmission as well as cut back on harmful chemicals that may wash out during the polish process. Lauren and her team exclusively use more natural products that achieve longer lasting results for clients, requiring fewer trips to the salon and fewer harsh chemicals.
In addition to their innovative approach to cosmetics, Varnish Lane has developed a loyal fan base in Washington due to their well-designed interiors, curated customer service, and overall top-notch client experience. Their popularity has resulted in recognition by multiple publications in the region, and a lengthy waitlist to get a seat at one of their three salon locations.
COVID has completely disrupted the retail cosmetics world forcing the closure of almost all salons. The direct contact between client and technician required to deliver services begs the question: how can salons and spas reopen, yet still meet CDC guidelines on social distancing?
This interview provides a personal perspective on Lauren's life before the pandemic hit, her experience weathering the challenges of COVID, and her continued fight to open Varnish Lane's doors once again.
What is your name? What is the name of your business?
My name is Lauren Dunne, and my business is Varnish Lane.
Describe what your business was like before Covid-19 hit. What did an average day look like for your business?
We're a waterless nail shop that provides services in a beautifully designed space, and elevates the standards for nail care. We have three locations. In the DC area: we have Friendship Heights, West End and Mount Vernon Triangle. On any given day we're doing hundreds of nail care services across our three locations. Clients also use our space for community gatherings, renting out the space for bridal showers, baby showers, and birthdays. It's a relaxing space for nails but it's also used to catch up with friends or co-workers.
When did you start to feel the impact of COVID-19, what happened?

I remember hearing about it across the globe and it didn't even cross my mind that it would affect my business.
It's definitely worth noting that Varnish Lane is a business that prioritizes sanitation and cleanliness - which kind of goes against the nail industry's typical stigma for being unhealthy or transmitting diseases. Our whole business model is focused around creating a really safe, clean, healthy place. This actually is something that we're naturally used to dealing with. We sent out an email right when this all started, even before cases really hit D.C., just letting clients know that we would be extra cautious, and we got N95 masks for our nail technicians and put hand sanitizer everywhere.
The first thing we did was run out and get a bunch of extra cleaning supplies and hand sanitizer. We're used to going overboard on sanitizing, we have a hospital grade autoclave for all of our instruments. Sanitation is part of our daily routine and our clients know that as well. The decision to close happened really quickly, within the span of a week. At the beginning of the week, we had no idea we would close by the end of the week, but within two days we made the decision to close - right before the government shutdown.
We felt that for the safety of our clients and staff, the best thing would be to close.
‍When this all started, we thought, "Two weeks, three weeks, we'll be back and over it." At the time I don't think any one of us in a million years would have guessed that we would be in this position three months later, still closed. We closed  before the stay at home order was put in place. It was interesting business-wise up until we closed. People slowly stopped going to restaurants, but in our case, we actually saw a huge swell of people trying to get in because they were like, "This will be my last pedicure for who knows how long!"
Up until the very last day before we closed we were 100% booked. We were super busy, and then boom, we closed.
How has your assessment of the potential impact on your business changed over time as this situation has unfolded?
I don't think we could have ever anticipated being closed for three months, and it still really feels surreal. In that sense, my initial assessment of what was going to happen is wildly different. And I also never imagined sort of planning to reopen in such a methodical way. I don't know why I thought, "Okay, this happened, we closed and then we'll just reopen."
I didn't anticipate all of the new procedures that will be put in place and what we would have to do in order to reopen. I think there are still a lot of unknowns as far as the full impact, like not being able to host events and clients not sitting right next to each other. It's really hard to tell how long that will persist and it'll be interesting to see how that plays out. Definitely my initial assessment has changed drastically as far as where we are today.
What resources, if any, helped you through this time period?
I actually founded Varnish Lane with my mom, which is amazing. It's definitely a family business and we've had each other to lean on throughout this.  I live really close to my parents and having that family support, every day, it's been huge. We've been amping up our e-commerce sales by shipping at-home manicure kits. My dad goes out to ship them every afternoon, and it's really been all hands on deck - I've even had my little sister help with putting boxes together. It's been fun to do that together as a family.
As far as the other resources go, we did receive a PPP loan in the first round, right at the beginning of April, which has been a huge relief for our staff. We also received a grant from D.C. and a few others I applied for. I was very careful to make sure I knew what all was out there. I tried anything and everything.
Before we knew that PPP was going to be an option, we hosted a GoFundMe for our staff. Unlike a restaurant, we can't offer takeout, we're not able to perform any kind of services.
We have a team of over 50 amazing women, who can't do any kind of work now and they have always been our top priority.
We've also had an amazing financial agency partner called Stage 1 Financial. They've been a huge help for managing cash flow, modeling out what the future is going to look like at a lower capacity, making sure that we're analyzing what the financials are going to look like moving forward, and navigating the government programs which, to be honest, have been very confusing and hard to figure out.
What resources are missing?
More clarity from our government would be great - I think everyone would appreciate that. I understand this is the kind of thing no one has ever experienced before, but the entire PPP process was really stressful and confusing for a lot of people. The whole time I was applying for it I was thinking about all of the other people that may not have had the resources I had to help navigate it all, and how they were able to get through it.
I wish there had been more guidance and more support, especially from the larger banks.
I was fortunate to have a helpful banker from a small bank, but that was not the norm and I just don't think the loans were handled well for a lot of people. In general I wish there had been more support for small businesses. I would have loved to see more resources for specifically minority-owned and women-owned businesses.
How has this experience changed Varnish Lane as a business?
At its core, Varnish Lane is an experiential brand. We're a nail salon, but at the end of the day, we're selling the experience and how clients feel when they're in the shop.
Before this, our focus was creating a really beautiful space for clients to relax, unplug, and socialize with friends. Not being able to have our clients in the shop or see them in person has been a complete 180 for our business model.
We've really had to shift to engaging with our customers in other ways. The first thing we did was creating these 'at-home manicure kits'. They are custom kits made from surplus supplies from our shops. Our clients basically email what they want in the kit, we build them and ship them out. We actually had a ton of people send kits to their mom for Mother's Day. That's been a way to send a little bit of Varnish Lane to clients at home. They can still use the product and feel like they're connected to us.
The other thing is really ramping up our online dialogue with our consumers. We started coming up with creative ways to stay connected to our client base - doing manicure and nail art tutorials on our Instagram.
While we can't see them in person, we're figuring out how to give our clients a piece of Varnish Lane while they're at home.
What has been the most difficult thing you have dealt with so far?
Our staff has been the number one concern because they haven't been able to work at all. We have a team of 50 women and a lot of our time during this period has been spent on how we can support them.
PPP was a huge relief, but we need to reopen soon because that money only gets us through the end of May, and then that's it.
The other frustrating thing is that right before this all started, we were heading into our busy season. We were doing really well and were outperforming our financial targets. Varnish Lane was planning to leverage the massive growth we've experienced, which didn't happen overnight. It took years of tiny steps to get to that point. We were even planning our next location. So for all of that to suddenly stop, I don't even think I've fully wrapped my head around it.
I know we'll get back there, but it's going to take a lot of patience, more hard work, and generally just more time. I'm anxious to get back to where we left off, but I know I need to be patient and we'll get there eventually. A lot of our business has to do with momentum.
I know in the long run, this experience will make us stronger. For example, being forced to get better at online engagement will improve the business. In the moment it's hard to realize, especially since our clients seem like they are ready to be back. It'll be interesting to see, with the social distancing requirements and capacity levels, what kind of ramp up period we'll have to get back to full steam.
Has anything positive happened for you personally or for the business as a result of COVID-19?

To stay sane throughout this, I had to think about the silver linings.
As I mentioned, it's forced us to streamline our e-commerce and shipping process, which has been great. Believe it or not, I really feel like this has brought us closer as a team. Even though we haven't been able to see each other or we haven't been able to work together in person, we've stayed in really close contact. That's been nice and heartwarming to see.
This situation has allowed me to take a step back from the daily operations and grind, especially going into the busy season, and give me a bird's eye view of the business, and think about the areas that we want to improve. I've really tried to use this time before reopening to explore how we can make an even better Varnish Lane. To improve for both our clients and staff. I want to use this time to work on areas that I probably would have put off for a lot longer.
I'm trying to be mindful about creating positives as opposed to just waiting for the positives to happen.
Have you been following the reopening process in other states, how does that make you feel?
We are following very closely. On the one hand, it makes me feel really impatient, seeing other states and businesses open, but that's the passionate business side of me. Thankfully I have a logical side as well that knows how important it is to be patient and reopen in the safest way possible.
The last thing I want to happen is to reopen and then have to close again.
I actually think it's best that we're on the later end of reopening. We're able to see what the other states are doing and how other businesses are reopening; what's working, what they're doing wrong, and what we can do better. D.C. has been non-committal as to when we can reopen, especially nail salons, so we're using it as a chance to see what other businesses are doing and see how we can reopen successfully.
The community of this new wave of natural nail salons, salons committed to providing safer services, has managed to remain really tight knit and we've all been in touch with each other. It's a very supportive and collaborative community, and we all share information and discuss what's working for our respective salons.
I've just been trying not to worry about the things that I can't control. I can't control when nail salons will be allowed to open. In the meantime, I'm just going to worry about what I can do to make it the safest, smoothest process possible - whenever that day comes.
How has your business changed, or will change, for when you reopen?
Something to note about our operations is that you actually stay in one service chair while you get your manicure or pedicure, which is great because you're touching fewer surfaces and you're not moving around the shop. When we reopen we'll have plexiglass guards that we had custom made that'll go in between each chair. That'll create a barrier between clients.
Varnish Lane was founded on strict principles of cleanliness and sanitation, and an all around safe environment. Our space was designed from the beginning to operate at a much lower capacity than what our space can actually hold. We are going to follow all of the guidelines for capacity levels - but what's great is that our space has always been designed to not be overly cramped. We won't have people standing in line at the front desk, or crowding any areas.
The plan is also to sanitize service stations in between each service and to clean surfaces regularly throughout the day. Clients and staff will wear masks through the entire service. We'll also be doing temperature checks of our staff before every shift. We'll increase contactless checkout as well. Most of our clients already have credit cards on file, they'll just walk up to add gratuity, and we'll use the card on file to close the transaction.
The main reason Varnish Lane offers waterless services is because water is the main source of infection when getting your nails done. By offering waterless services, it's much safer than most other salons. I think this is a great opportunity to continue educating our client base about the health and safety benefits of waterless nail service.
What have you learned from this experience?
I've really learned the importance of communicating with your consumers and clients. Varnish Lane normally depends on more face to face interactions, where our team and clients talk about why our services are waterless, why we use natural products, and how it's better for you. A lot of that dialogue happens in the shop organically, between the front desk, between the nail technicians, seeing the signs in the shop. We've had to move that whole conversation online, and I've learned how important it is to engage customers on other platforms.
‍We've learned a lot, like how much our clients love the manicure tutorials, they love the nail art instagram posts, things like that. It's really forced us to be better at engaging with our customers online. When our staff goes through training, the analogy we use is, "Imagine you're having a friend over for dinner." That's the kind of hospitality we want you to treat the clients with. Make them feel comfortable, make them feel at home. Personal connections are going to be critical now more than ever. We want to make sure that when clients do come back, that they still feel just as safe at Varnish Lane as they would if they were at home. That's going to be the goal of reopening and, and what we're going to have to navigate.
The other thing that I've realized is just how lucky we are to have such amazing staff and clients. My appreciation level has just skyrocketed from the GoFundMe donations. We've received dozens of messages and emails from clients checking in on their favorite nail technician and seeing how we're doing. Even just seeing our team members support each other has made me so happy.
It just makes me feel really proud of the community that we've built.
Is there anything else you'd like to add?
The biggest challenge when we reopen is going to be when people are at Varnish Lane, we want them to feel like they're at home. We want them to feel like they walk in; they don't even realize they're at a nail salon. It just feels like their friend's living room. And it's going to be tricky to create that normalcy of a really relaxing environment while they're wearing a mask, and have a sneeze guard barrier up, or if they come with a friend and have that barrier between the two of them during their service.
As a team we're going to have to work hard to provide the same, relaxing, Varnish Lane experience as it was before. It'll be a tough and interesting road ahead. I love our business though - clients instantly feel better when they get their nails done, whether it's just for themselves, for work, or for an event. It's just something that makes you feel better.
We're excited to be able to provide a service that helps people relax and feel better.
People often see our services as the one hour that they're allowed to have to themselves, to really administer some self care, and that's why we started Varnish Lane. We think getting your nails done shouldn't be a chore, it should be something that you look forward to. And if you're paying for it, it should be an amazing service. We want it to be something that people look forward to and use as an escape. That's the goal.